A degree from Embry-Riddle Worldwide's Berlin campus can open doors to your future. From an Aviation Business Manager to a Safety Manager to an Aircraft Maintenance Engineer, oftentimes known as an aircraft mechanic, the first step to landing the career of your dreams is getting the proper education. Aircraft mechanics fall under the maintenance, repair and operations (MRO) sector.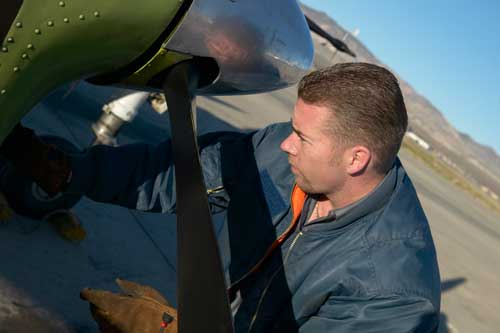 Comprising the largest sector of aviation and aerospace employment, MRO involves making alterations to aircrafts, engines and related components to improve overall safety and quality. This includes everything from airframe maintenance and operations to cabin modifications and aircraft painting to aircraft mechanics.
Mechanics work in hangars, on flight lines or in repair stations. Using hand and power tools alongside sophisticated test equipment, they inspect and perform or supervise ongoing and preventive maintenance as well as alterations of aircrafts and aircraft systems.
This job requires knowledge in electricity, technical drawings, weight and balance, aircraft ground operation, cleaning and corrosion control, basic mathematical calculations, basic physics and familiarization with maintenance manuals and publications.
Most of all, working in the MRO sector requires more than just technical know-how. It requires management and business skills. Knowing how to maintain an aircraft is one piece of the puzzle, knowing how to manage an MRO operation is another. Embry-Riddle programs give you both skills.
If you have a passion for aviation but an aspiration outside of pilot or crew member, an aircraft mechanic career might suit you. To become an aircraft mechanic, you may want to look at getting an undergraduate degree in Aviation Maintenance or Aeronautics, or a graduate degree in Aeronautics from Embry-Riddle.
Embry-Riddle Europe
House of Logistics & Mobility, Bessie-Coleman-Str. 7
Frankfurt, Germany 60549