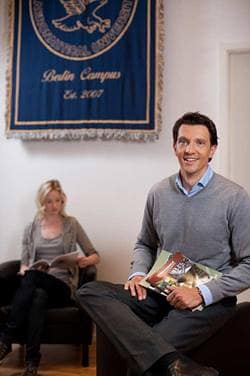 For nearly a century, Embry-Riddle Aeronautical University has established a reputation as the oldest, largest, and most prestigious university specializing in aviation and aerospace.
Today, as the only fully accredited, aviation-oriented university in the world, our global reach and leading-edge innovations are opening doors for students throughout continental Europe, the United Kingdom, the Middle East, and Africa.
As a distance-learning pioneer, our online bachelor's degrees are renowned worldwide and have been rated among the Top 5 in the U.S since 2014. This means you can complete our programs 100% online, without the need for face-to-face seminars, and it allows busy working professionals or students just starting their academic journeys to study from the comfort of their homes, offices, cafés or while traveling, all on the schedule that works best for them.
We have evolved into a recognized educational leader in Europe, where our programs may award credits to professionals with more than 12 years of experience via an "Experiential Learning Evaluation."
You also can combine the Abitur with an Airline Transport Pilot License (ATPL) to earn up to 64 credits toward our Bachelor of Science in Aeronautics degree.
In addition, our Europe Campus location in the House of Logistics and Mobility, within walking distance of Germany's Frankfurt Airport, provides you the opportunity to build vital practical experience and strong professional networks through our close links with nearby aviation and aerospace companies.
If you're ready to take your education to a new altitude, find out more about how Embry-Riddle can help you keep climbing.
Apply today or chat with our Enrollment Counselors by email or by calling +49 69-27229676.
Accreditation and Recognition
For information on Embry-Riddle's accreditation please read the University's official accreditation statement.
Degrees from Embry-Riddle Aeronautical University are recognized in Germany. The German Armed Forces, "Bundeswehr," provides financial support to current and former military members in pursuit of bachelor's and master's degrees at Embry-Riddle Europe.
The Central Office for Foreign Education of the Conference of Ministers of Education and Cultural Affairs in Germany, "Kultusministerkonferenz," has given Embry-Riddle H+ status, which means that Embry-Riddle is recognized as a university in its home country and is also considered a university institution in Germany.
Embry-Riddle Europe
House of Logistics & Mobility, Bessie-Coleman-Str. 7 
Frankfurt, Germany 60549
Driven, passionate industry professionals who take teaching to another level, our faculty combine their daily real-world experiences with course curriculum to ensure you get fully immersed in the industry and learn what is in demand in the field.
We leverage our extensive network of partnerships to ensure students are given the chance to reap the benefits in full. Take advantage of learning, research, networking and job opportunities.
Whether you seek a career change or promotion, have recently transitioned into a new role or simply want to learn more about a specific subject, career possibilities for Embry-Riddle alumni are endless.
Clery Act Compliance Information