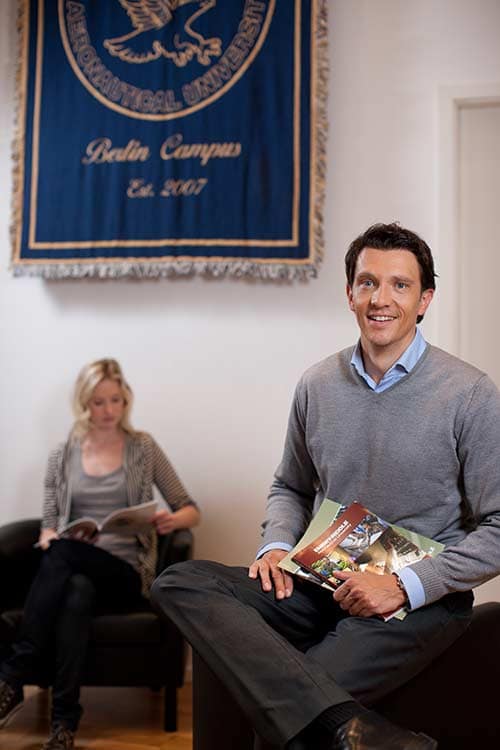 Embry-Riddle Aeronautical University is the world's oldest, largest, and most prestigious university specializing in aviation and aerospace. It is the only fully accredited, aviation-oriented university in the world. Embry-Riddle was founded in Cincinnati, Ohio, on Dec. 17, 1925, by barnstormer John Paul Riddle and entrepreneur T. Higbee Embry, as the Embry-Riddle Company. The company opened the Embry-Riddle School of Aviation the following spring. Embry-Riddle is an independent, nonprofit, nonsectarian, coeducational university serving culturally diverse students seeking careers in aviation, aerospace, business, engineering, and related fields.
Renowned globally for leading-industry aviation aerospace programs, advanced research and highly regarded faculty, Embry-Riddle is excited to have a presence in Frankfurt that serves working professionals across Europe. Embry-Riddle Europe provides challenging programs that align with what is being demanded in the industry. So as you take your education to new heights you can be assured that you will acquire knowledge that can help elevate your career.
Take the first step to becoming a part of the elite by filling out your application today. For more information, call +49 (0)30 5306-3549, email or chat with one of our Enrollment Counselors.
We leverage our extensive network of partnerships to ensure students are given the chance to reap the benefits in full. Take advantage of learning, research, networking and job opportunities.
Whether you seek a career change or promotion, have recently transitioned into a new role or simply want to learn more about a specific subject, career possibilities for Embry-Riddle alumni are endless.
Embry-Riddle Europe
House of Logistics & Mobility, Bessie-Coleman-Str. 7
Frankfurt, Germany 60549
Driven, passionate industry professionals who take teaching to another level, our faculty combine their daily real-world experiences with course curriculum to ensure you get fully immersed in the industry and learn what is in demand in the field.
Clery Act Compliance Information